How I do indefinite 'one bag' international travel
You owe something to every thing you own.
Each item you cram into your suitcase is an obligation you're committing to maintain, protect, or give attention to for the duration of your trip. The less you bring, the less responsibility you have.
You need money and a passport to travel. Everything else is optional. Finding out how much stuff is 'enough' is for you, and then packing just a little bit less than that, is where the challenge lies.
I try to make sure all the clothing I bring can be mix-and-matched, so my navy shirt isn't waiting for me to change out of my navy pants to avoid offending international fashion laws.
I shoot for a full week's worth of clothing. Doing laundry once a week is manageable. If I can get an Airbnb with a washing machine, that's a win. Otherwise I'll compare the cost of laundry service against the hassle of planning around a local laundromat.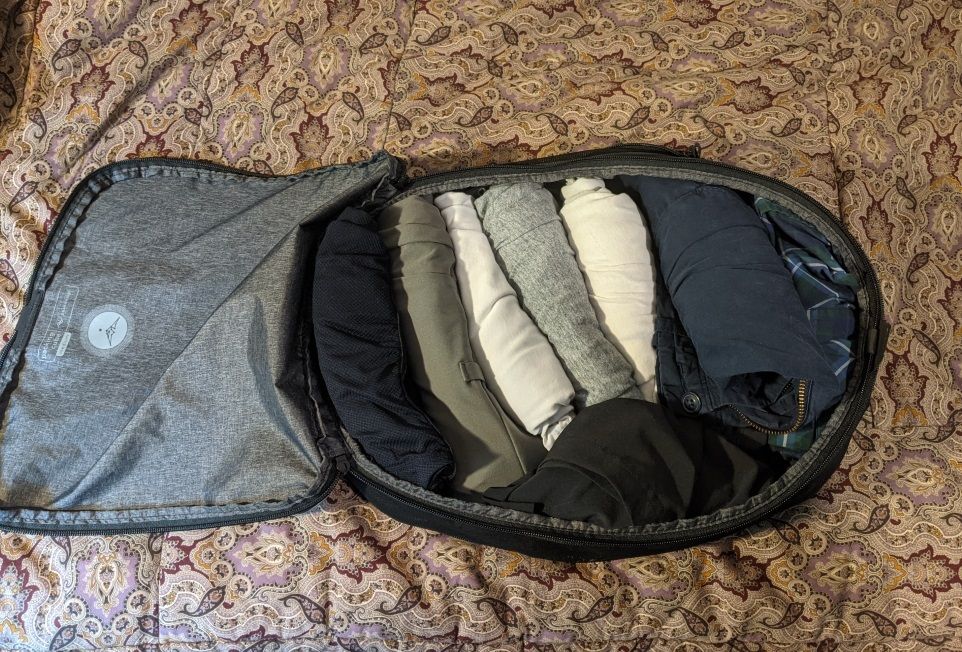 Made-for-travel clothing can often be washed in the bathroom sink with minimal effort. This isn't my first choice, but it's a viable plan B and a bonus for spending a little extra on quality clothing.
Shirts are the highest maintenance clothing items. Decent pants can be worn at least 4-5 days in a row. Socks and underwear are easy candidates to be washed in the sink before bed. I haven't figured out shirts yet.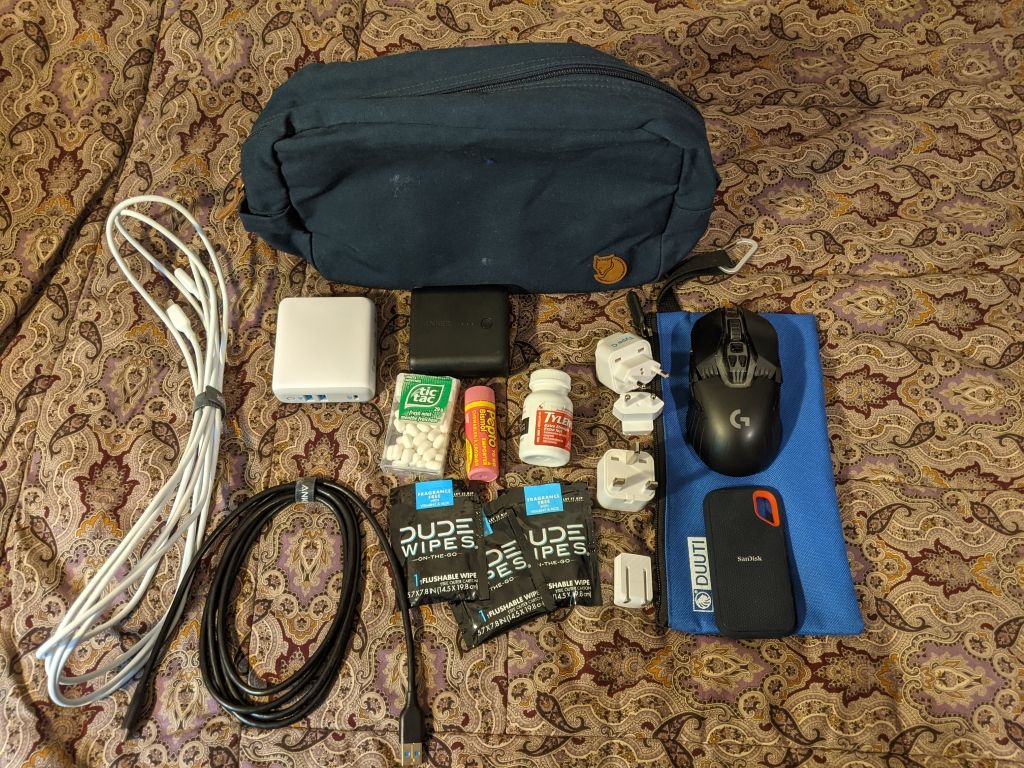 A recent optimization I've made to my travel packing routine is minimizing charging cables and adapters. All my electronics can now be charged via a USB-C cable, including my electric shaver. Bulky power adapters are no longer necessary, just 2x USB-C cables and a USB wall charger.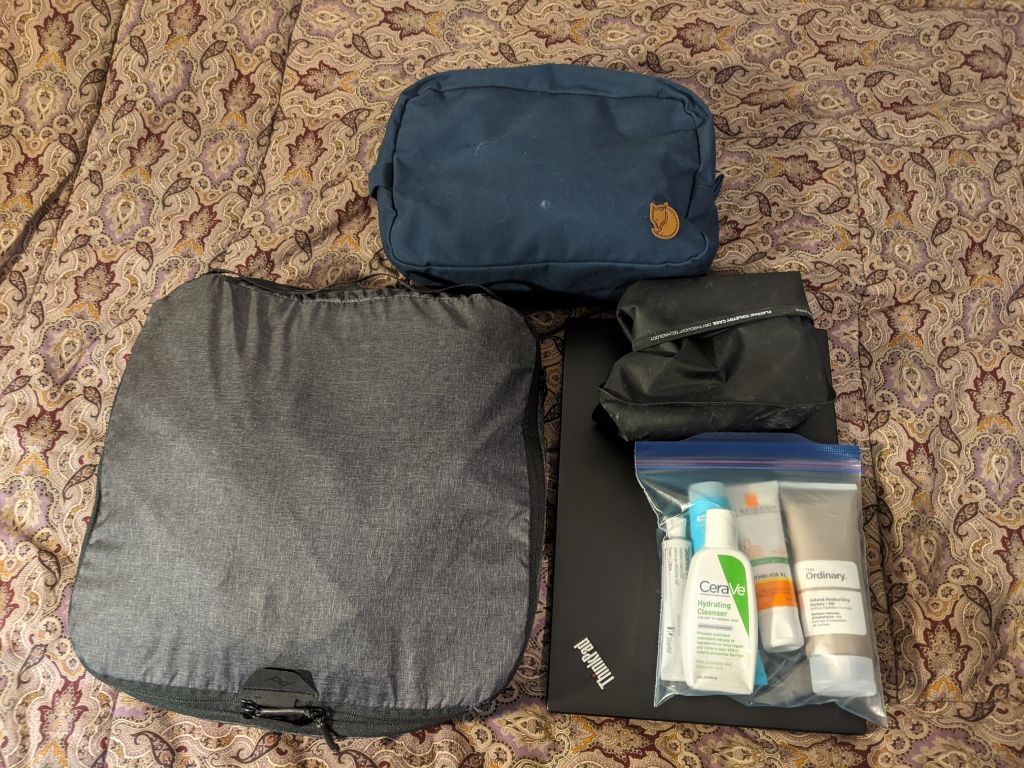 My stuff is split into smaller bags and pouches before being put into my main bag. This is the secret to organized one bag travel.
My clothes live inside of a packing cube, my electronics and cables live inside of a large pouch, my liquids in a freezer bag, toiletries in another, and my laptop inside of a collapsible day bag. Packing takes 10 minutes, unpacking takes 1 minute.
The cost of packing less essentially comes down to having a small wardrobe. I deal with this by doing laundry weekly, buying durable clothes, and/or buying more clothes on location, if I need to.
In return I get to travel with a small 25L backpack that wouldn't look out of place if I wore it to school. No checked baggage. No baggage claim lines. No thinking about stuff whatsoever.
My One Bag Travel Packing List
This is my current packing list for indefinite one bag international travel. This is (more or less) what I've taken on trips as long as 11 months.
Travel essentials
I like to remind myself that I could technically get by with only these things and the clothes on my back.
Passport
Wallet
Phone + Charger
Laptop + Charger
Packable, waterproof day bag
Folder for 3-4 travel documents (visas, etc)
Clothing for indefinite travel
So far I've exclusively traveled to warmer climates. If it's colder (15°C or less) I'll just buy a hoodie there.
5x boxers
2x socks
3x button-up shirt
3x t-shirt
1x pants
1x shorts
1x workout/swim shorts
1x workout shirt
1x belt
Gadgets and electronics
Laptop + phone
Wireless earbuds
Manual coffee grinder
Kindle
Wireless mouse
Portable 1TB SSD
USB-C to USB-C cable (2)
USB-C to mUSB cable (1)
Electric shaver
Toiletries
Toothbrush + toothpaste
Deodorant
Sunscreen
Moisturizer
Tweezers
Nail clippers
My Favorite One Bag Travel Resources
Chase Reeves is the ultimate resource for finding your 'one bag'. He also keeps a record of the products he reviews on Matterful but his videos are way better.
The /r/onebag subreddit is also good for community sourced opinions and packing lists based on bag sizes and trip length.
Nomad List is alright. I rarely use the website itself. Membership can be worth it for access to the Slack community.
I forward all receipts from flights, accommodation bookings, etc to the TripIt app for trip tracking.
I typically use Skyscanner for finding flights. I hear Kiwi might be better.
I have a phone number parked at NumberBarn, which forwards all my texts and 2FA confirmations to my email for a few bucks each month.
I buy credits for Skype if I need to call a real phone number (i.e. can't use Telegram or WhatsApp). I use web.skype.com (not the ugly app).
My Favorite Packing Lists